Cannacals™ are an easy and inexpensive way to mark your cannabis-infused foods.

At Baked Smart we believe all edibles should be clearly marked with a green cross. A green cross is easy to see, it's a symbol for medication and it is already being used in the industry. A green cross lets your family and friends know when something is infused.  Makes sense, right?
So how do you mark an edible with a green cross? Enter  Cannacals™!  Cannacals™, are edible designs made for easy and direct application to edibles. They can be applied to most foods and will not change the taste or the texture of the food. Whether you are a commercial manufacturer or a DIY CannaChef, you need Cannacals™!
Wholesale
Commercial sheets for edibles manufacturers - Cannacals™ sheets measure 12" X 17" and come with twenty sheets to a bag.
Cannacals™ allow you to easily mark your infused food products to make them easily identifiable outside the package.
This reduces the risk of accidental consumption and shows consumers your canna-business cares about public safety!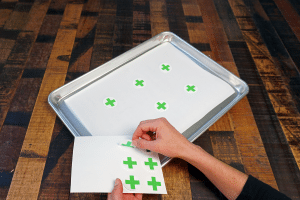 Retail
Cannacals™ Home Kits are a must have for all canna-chefs and edibles enthusiasts! They are perfect for marking your
homemade edibles or they can be applied to your favorite cannabis-infused products purchased from dispensaries.